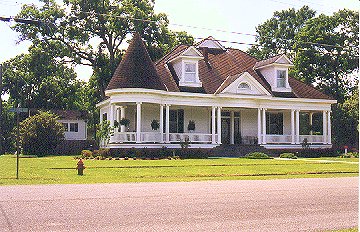 (Revised 9/14/02)
Why Not Call Us Home?
We'd Love To Call You Neighbor
Kentwood, with a population of 2,700, is an attractive town for a peaceful retirement. We are best known for our abundance of sparkling spring water and as the home of Britney Spears, but, there are a lot of things that make us attractive for older residents.
Louisiana has consistently ranked very high, number 2 in 2000 and 2001, in the Bloomberg Personal Finance magazine survey of retirement friendly places. The State offers many benefits for middle and upper income retirees who are seeking to make their investments last. For more information on the benefits of retiring in Louisiana, CLICK HERE.
For an information packet about the advantages of moving to Kentwood, e-mail us at kcd@kentwoodla.org and include your name and mailing address.
Click Here For Mapquest Map
Many organizations and opportunities, such as fairs and museums, exist for a wide variety of interests. Adult learning opportunities are available less than thirty minutes away. Southeastern Louisiana University is located nearby in Hammond, La., and Southwest Mississippi Community College (SMCC) is located in Summit, Ms. Each can provide training for a new hobby or a new career. Further, SMCC has a special program called, the Institute for Learning In Retirement.
Health care is especially important for our older residents. Our needs are met by our local physician, Dr. Carlton Faller, and by physicians in surrounding communities. The Kentwood Fire Department also provides a First Responder program that puts emergency medical help in your home in mere minutes. Further, Hood Memorial Hospital's emergency room is 15 minutes away in Amite . Two other regional hospitals are a also a few minutes away: North Oaks Medical Center in Hammond, La., and Southwest Mississippi Regional Medical Center in McComb, Ms.
Affordable real estate in a low crime area makes Kentwood a pleasant place to live. Our location on I-55 allows residents the best of both worlds, fast paced or "down home" relaxed. The quiet slow pace of every day is like a pleasant step back in time. Yet, in five minutes, you can be on the Interstate, and on an airplane in two hours!
Come visit us. We'd love to have you call Kentwood home.


Click Here To See More Homes











Kentwood Community Development Inc.
204 Ave. E
PO Box 685
Kentwood, LA 70444
985-229-4656
Fax - 985-230-0841
kcd@kentwoodla.org

Copyright 2000 Kentwood Community Development, Inc.